THE STORY OF UNION LIBRE cidre & vin
Situated on the hills of Dunham, UNION LIBRE cidre & vin is all about the art of savoir-faire rooted in imagination and creativity. As the first producer of fire cider, the estate produces distinctive ciders and wines. In many ways, our 70-acre estate is modest. However, it holds within it unimaginable treasures that are reflected in the unique character of the soil of the Dunham region. The layers of soil, rich in minerals, rest upon a clay foundation that represents the heritage of the ice age. This mosaic upon which we've chosen to grow an orchard and vineyard reminds us that many generations, from the First Nations to the loyalists,
have worked this nourishing land. Every cider, every wine is a result of the concerted efforts of a whole line of people. Guided by tradition, science and instinct, our team produces vintages that express the complexity of the soil and capture the essence of the varieties selected upon blending.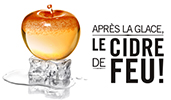 Tasting package
Available during opening hours (selected products only)
No reservation required
Guided tour - Reservation required. 
UNION LIBRE cidre et vin is the very first producer of fire cider. The 70-acre estate is dedicated to the production of distinctive wines and ciders.
Tastings offered without reservation Wednesdays through Sundays from June 7th until October 31st 2023.
Wine tours are available Wednesdays through Sundays at 10h30 am. The tours last around 45 minutes, reservation required.
1047 Chemin Bruce, Dunham, QC, J0E 1M0
450 295-2223
info@unionlibre.com