The story of Union libre
cidre & vin
Our story
Located amongst the rolling hills of Dunham, in the heart of the first Quebec Wine Route, UNION LIBRE cidre & vin is unveiled in the summer of 2010. Sylvie Chagnon and Ernest Gasser acquire the estate in August 2016 and wish to showcase distinctive local products. Ernest, formerly a cash-crop and dairy farmer, and Sylvie, a former accountant for the Pharmaprix group, marry their experiences to form a team at the head of Union Libre cidre & vin.
Since the acquisition, they have put forth a selection of wines and ciders that have amassed loyal wine and cider lovers all over Quebec. Starting with 2 hectares of vines and 4 200 apple trees, they have with time tripled the amount of vines in the estate.
In January 2020, Sylvie passed away from her fight against cancer. To keep her memory alive, we planted 7 500 grapevines at the top of our hill, and Ernest continues their project with passion and pride. Don't be suprised to see him host the summer tastings and work the fields to ensure a local quality product.
The wines at Union Libre cidre & vin are characterized by their freshness and mineral taste. Union Libre refers to the union of our passions, our region and our knowledge to create products that we can all appreciate together.
Union Libre cidre & vin continues to innovate and create new products that make you want to drink until the very last drop!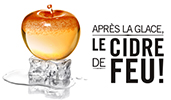 UNION LIBRE cidre & vin is all about the expertise and the freedom of the senses with the goal of creating unique aromas, tastes and textures in a spirit of creative freedom. The company takes its inspiration from the combination of two crops as well as the duality of fire and ice. Its contemporary design speaks to its updated vision of the rural flavour.