The story of Union libre
cidre & vin
Our story
Located in the rolling hills of Dunham, in the heart of Quebec's first Wine Route, Union Libre cidre & vin was opened in the summer of 2010. In the beginning of the 1970s, the first 10 000 apple trees were planted on the estate. In 2011, almost 40 years later, the first 5 000 vines were rooted. The original 6 grape varieties were Seyval blanc, Seyval noir, Chardonnay, Gewürztraminer, Riesling and Vidal. Through time, Union Libre added many fields to increase production and also introduced some new grape varieties. Our flourishing production has brought our range of wines and ciders to tables across the province.
The freshness and mineral taste characterizes our wines at Union Libre. Union Libre refers to the union of our passions, our region and our knowledge in creating unique products accessible to all.
You will enjoy it 'til the last drop!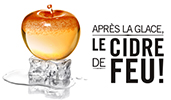 UNION LIBRE cidre & vin is all about the expertise and the freedom of the senses with the goal of creating unique aromas, tastes and textures in a spirit of creative freedom. The company takes its inspiration from the combination of two crops as well as the duality of fire and ice. Its contemporary design speaks to its updated vision of the rural flavour.